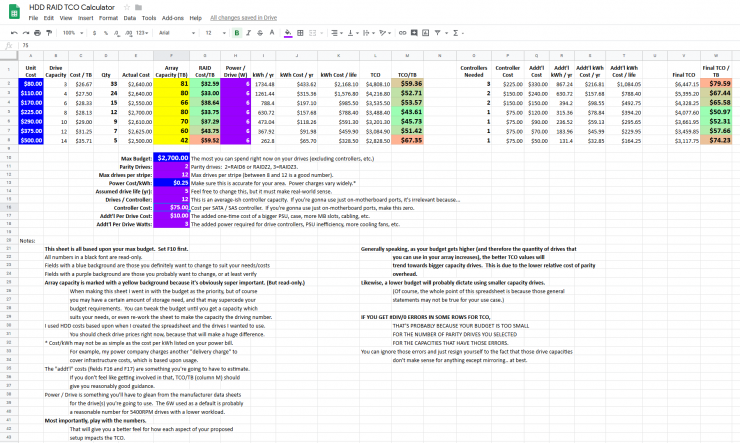 A while back I created a HDD TCO worksheet showing the relative costs of certain drives in no real context.
This spreadsheet aims to calculate the total cost of ownership for a RAID array, which is a much more involved affair.
https://docs.google.com/spreadsheets/d/1dM2vO08gmX3VwYyJtTE5D1Gu75TTU-nUW95j1_DVx8c/
That's a read-only version, but you can easily make your own copy to play with:
If you have a Google account and are logged in, you can just hit File -> Make a Copy.. to save it to your own Google Drive.
If you hate Google sniffing into your private affairs, you can hit File -> Download As and grab a copy in the format of your choice.
I hope I've provided enough of an explanation as to what everything means, but connect with me on some social media platform or in the comments if you have any questions. Also please let me know if you make any improvements! (I'm sure it can use some.)
Here's some explanation as to what's in the sheet, but this explanation is also in the sheet, so it's all very meta now:
This sheet is all based upon your max budget. Set F10 first.

All numbers in a black font are read-only.

Fields with a blue background are those you definitely want to change to suit your needs/costs.

Fields with a purple background are those you probably want to change, or at least verify.

Array capacity is marked with a yellow background because it's obviously super important. (But read-only.)
When making this sheet I went in with the budget as the priority, but of course
you may have a certain amount of storage need, and that may supercede your
budget requirements. You can tweak the budget until you get a capacity which
suits your needs, or even re-work the sheet to make the capacity the driving number.

I used HDD costs based upon when I created the spreadsheet and the drives I wanted to use.
You should check drive prices right now, because that will make a huge difference.

* Cost/kWh may not be as simple as the cost per kWh listed on your power bill.
For example, my power company charges another "delivery charge" to
cover infrastructure costs, which is based upon usage.

The "addt'l" costs (fields F16 and F17) are something you're going to have to estimate.
If you don't feel like getting involved in that, TCO/TB (column M) should
give you reasonably good guidance.

Power / Drive is something you'll have to glean from the manufacturer data sheets
for the drive(s) you're going to use. The 6W used as a default is probably
a reasonable number for 5400RPM drives with a lower workload.

Most importantly, play with the numbers.
That will give you a better feel for how each aspect of your proposed
setup impacts the TCO.

HOWEVER!
Remember that this isn't going to be 100% accurate. Small changes in multiple fields
can really impact the TCO. Unforseen things like environmental factors could
also have an effect. (E.g. more drives means more air condidtioning in hot climates.)
This sheet is simply for guidance, but you may be surprised at the TCO numbers.
Very often the largest drives make for the least efficient configurations,
but not always.

FINALLY, you might of course have your own priorities. E.g. more drives means more
noise, which you might find an overriding factor to cost. Same goes for
space, because obviously a few large capacity drives can be put in a smaller
case. But these numbers may server to put your priorities in perspective.