I shop online a lot.  I mean a lot.
I mostly have things shipped to my office, which saves me the dreaded door tag at home.  Granted, the door tag isn't my problem with FedEx, though I would never ever ever ever have them deliver to my house (ever) again.
Home Delivery
"You want that thing crushed, and in two weeks, right?" Out of maybe 8 FedEx home deliveries I've had in my life, 2 were crushed so badly that the boxes split open, 3 took more than nine days to arrive, and in one godforsaken incident we received a door tag.  Right before we left for vacation.  And it was a gift.
That's right.  Since you can't re-route or re-schedule FedEx Home Deliveries (or at least not at the time of that incident), you are SOL if you get a delivery while out of town or about to leave town.  And since it was a gift, we couldn't contact the sender to let them know what was going on.
Something else you should know:  FedEx home delivery people take their trucks home at night.  With all of your packages in them.  Your valuable crap is just sitting in their driveways, or on the street.  Maybe in that nice, fancy neighborhood.  Maybe outside a crack den.  The fun of it is, you simply can't know!  Oh, and also that means you can't just pick up your item from a FedEx facility, because it's not there!
Finally, there is a key difference between UPS and FedEx.  UPS delivers in the evening.  FedEx (because they have special residential delivery trucks) delivers all day.  As in, when no one is home because they are working so as to pay for all the crap they buy on the internet.

Commercial Delivery
They're a bit stronger in this area.  Maybe they're even the best at this for overnight, super-priority, 6AM, $5000 deliveries.   But for your average internet order, they are just plain crap.  Worse than UPS by far, and worse than USPS Priority Mail by a bit.
You ask: "Surely they can deliver a package at the appointed time, right?"
Yes, they can (sometimes).  But they are really literal about it, to the point of being dickishly passive-aggressive.  Let me show you what I mean: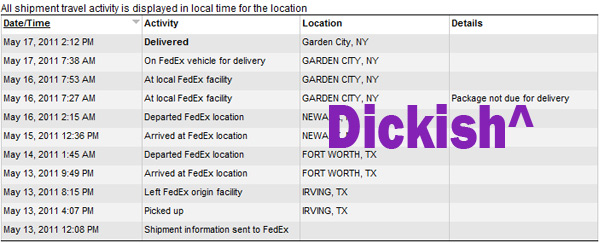 I wanted to do a tenso for "Package not due for delivery", but I didn't care enough.
That's right.  My package was sitting in the same town as the delivery, but they decided not to deliver it because that would be too soon. There is no such thing as "too soon", as far as I'm concerned.  I bought some crap online, and I want it now.
By the way, that's not a ground delivery either.  It's a premium cost 2 day air delivery.  I'd be lucky if my ground delivery took 5 days from Texas.
Let's compare this to my last order from UPS:
That's right.  Less than 18 hours.  Ground.
I know the UPS delivery is from PA and the FedEx delivery is from TX, so it's a stupid cock-blasting "apples to oranges" comparison.  But know this: I usually get my UPS deliveries from TX in 2 or 3 days.  Never more.
FedEx could take a goddamn week trying to get it here via ground.
I know that they have a computer shoved somewhere up their corporate ass that manages logistics down to the package-ounce and truck-mile.  Guess what?  So does UPS, and they can make a profit without being assholes with your precious deliveries.
One last thing about FedEx Ground:  They don't always move their packages on the weekends.  Sometimes yes, sometimes no.  UPS and USPS?  They don't give a shit, they'll move your package around all week long.
In my experience the winner in getting crap to me from the dreaded West Coast:  USPS Priority Mail.  Three days to get to New York.  That's three days, not three business days.  (The italics indicate the voice of some whiny asshole at FedEx HQ that has an MBA). I actually use USPS Priority Mail as a criterion for bidding on eBay auctions.
I would rather have an item shipped via US Parcel Post than FedEx Ground Home Delivery. If you disagree, please go to Teletubbies.com and tell them what you think.