I don't usually post hotel reviews, but when I do…
I'm not sure how much MGM paid for the ARIA's Five Diamond award from AAA, but I'm sure it must have been a lot.
Note to lawyers: My previous statement was intended as hyperbole, and not as an accusation of bribery on the part of MGM.
That's how poor the service is at this hotel: They've left me with the impression that they'd sooner sue me to take this review down rather than improve the overall customer experience. If I could sum up the attitude of the hotel staff in one word it would be uncaring.
I stayed at the ARIA for 4 nights encompassing 3 different hotel rooms. I was there for a bachelor party and was by myself in a Deluxe Room City View for the first two nights, a 2 Bedroom Penthouse Sky Suite for one night with my friends, and back to a single occupancy Deluxe Room for the last night.
Each room was a completely different experience, which is fine when comparing the Sky Suite to the Deluxe Rooms but baffling when comparing the two Deluxe Rooms to each other.
I arrived at the ARIA on a Thursday night at around 8:45 PM. If you can get there at that time then I recommend it. The line for check-in was very short. You'll understand why that's important when I get to the third room.
The employee that checked me in was polite and helpful. He upgraded me free of charge to the City View when I mentioned that I wanted a smoking room. His glassy stare as he recounted a few of the nearby clubs to visit (all MGM properties) was a bit off putting, and completely unnecessary. I'm not a club person, and after a long flight I very much want to regroup in my hotel room with a cigarette and a stiff drink.
I was very excited to get up to my room and check out "the lighting, the window shade, the music—everything is tailored to your preferences and intuitive to your needs".
So I opened the door to my room and found… A sticky entry foyer floor. A pile of used towels. A dirty bathroom with no amenities. Matchsticks, a dirty tissue, and some other bric-a-brac strewn about the carpeted floor. Drink rings on the desk and nightstand. Two impeccably made beds.
Because the beds were made, I assume that either the room had been partially cleaned and then forgotten, or that the previous occupant(s) hadn't slept at all.
I called the front desk, and a very nice man named Steven instantly apologized and offered to either switch my room or send up housekeeping to clean the room. Since, other than the mess, this room met all of my preferences I opted for the housekeeping option. For my troubles I was also promised a $50 food and beverage credit that would be automatically credited to my account. That was a great way to handle the problem, so at least their customer service seemed to be OK.
Except that I'm still waiting on that credit, Steven. As far as I'm concerned, promising something and then not delivering is about ten times worse than the honest mistake of not having a room cleaned. 2014-07-09: Just today I did receive the credit and then some. Check out today's update for the details.
Housekeeping was at my door within about five to ten minutes, and the person they sent up was very polite and spent a good 45 minutes cleaning the room. The room was quite clean by the time I was finally able to kick off my shoes and relax.
Boy, oh boy was it dim in that room! I went to turn on more lights, but the touchpad on the nightstand took about 5 seconds to respond to each button press, if it responded at all. Remember what a cell phone was like in 2006? That's the pre-iPhone era, and probably about the time that MGM was picking interior features on the ARIA's hotel rooms. So their high-tech, super-advanced, awesomely-personalized hotel rooms now feel about as dated as a Blackberry.
Of course, one can control the lights and all other functions through the TV. That would have been great, except the batteries in the TV remote were so flat that I had to stand within 2 feet of it to get it to work.
Even with all of the lights turned on, it was so dim that I could barely see the stains in the carpet. But I guess that's the point.
One light over the bed flickered like the sign on a 1950s motel before finally going out completely. The bedside lamp was more rickety than a drunk's chip pile. There were a couple of USB ports at the desk — great for easy charging — but they were both smashed to pieces. The mini-bar had a cool keypad lock on it, but it didn't work. The faucets in the sinks gave but a trickle. The safe in the nightstand drawer is a cool feature, but it's too small to fit an average sized laptop.
On the plus side, they do give a complimentary shave kit and tooth care kit in addition to the standard fare of soaps, shampoo, conditioner, moisturizer, etc. However, because the maid put those items in the room AFTER I checked in, I ended up buying toothpaste and mouthwash at absurd prices in the sundries shop. My fault for not bringing them in the first place, but nonetheless an annoyance that I would have been spared the trouble had my room been properly set up in the first place.
Speaking of annoyances: I like it to be cool when I sleep, and after waiting for the touchpad to respond I was able to lower the temperature. Falling asleep was nice, but the climate control couldn't keep up with the sun streaming against the side of the building in the morning, and the temperature in the room climbed significantly. (Yes, I had the blackout curtain closed.) I guess it saves the trouble of muddling through the touchpad control to try and set the alarm clock.
One can check out of the ARIA in a number of ways. I'd already put my laptop away, so I went through the painfully slow and unresponsive process of checking out using the TV. It let me review my folio, but only just. Scrolling through it took a few minutes (the font was large, even though there weren't many line items), and though I didn't see Steven's $50 credit I didn't have the patience to scroll back up to double check. My loss, I guess.
The TV told me that my folio would be emailed to me. It wasn't. (Though it was emailed for my second stay — but that time I'd checked out on my laptop, which was the far better option).
Oh, another thing: I did call the front desk in the morning to ask for a late checkout, telling them that I'd be staying in a Sky Suite that night. The rather brusque lady informed me that she could give me an extra hour. I asked if they could take care of my bags, and she said I should just bring them down to the Sky Suites lobby.
I don't mind schlepping my own bags; I really don't. But I was under the impression that they had a bell service for that sort of thing. Whatever. It's a huge hotel (4,000 rooms), so how could they possibly be expected to attend to the needs of every single guest when they're fully booked?
I get the impression that they probably have the same number of employees servicing the 568 Sky Suites as they do for the rest of the ~3,500 rooms in the hotel.
Before I forget: Internet speeds. "Complimentary" with your stay is internet access at 3 megabits per second (mbps). For an extra $50 (yes FIFTY DOLLARS) you can get 5 mbps for 48 hours. I quoted "complimentary" only to highlight that it's hardly a compliment to give you worse service than you'd get with your cell phone's data plan.
To put the ARIA's internet speed in perspective, the national AVERAGE download speed for broadband internet is 25mbps (according to OOKLA's netindex.com). ARIA is basically giving you DSL speeds for free, and 1999 era cable modem speed for $25/day. They bill themselves as a technologically advanced hotel, but fail to demonstrate that claim in any meaningful way.
And even worse, I was unable to attain a full 3 mbps during my stay. I tested it a few times out of curiosity, and got transfer rates ranging between ~0.5mbps and ~1.5mbps (and 1.5mbps was only on a hard ethernet line).
As another basis for comparison, I was able to achieve mobile broadband (4G) speeds as high as 8mpbs on my cell phone while in my rooms. And data overages on my cell plan would have cost FAR LESS than their "upgraded" internet service.
On to the Sky Suite…
It was very well appointed, immaculately clean, spacious, with gigantic bathrooms featuring a soaking tub, large shower, and bidet-equipped toilet. Each of the two en suite bathrooms included a sizable walk-in closet.
The views of the strip and desert beyond were also tremendous through the floor-to-ceiling windows. Service was very good; The room was not ready when we were, but it was prior to check-in time so that's not a problem. We'd left our luggage with the bell desk, and it followed us promptly to the suite.
My friend had left his credit card and driver's license by the pool about 4 hours earlier, only discovering that it was missing upon our arrival to the suite. A quick call to the Sky Suites front desk and they were delivered to the room in about half an hour. (Yes, some kind soul had found them and turned them in.)
I should make it clear at this point that the Sky Suites are basically a separate hotel to the rest of the ARIA. They have their own elevators, front desk, concierge, lobby, and lobby-adjacent waiting area. All of which is tucked away from the riff raff beyond the high rollers' area. It's a very nice experience, and really highlights the lack of care and attention given to guests in the ARIA proper.
In fact, I believe that the ARIA's 5-diamond award (and others) are for the Sky Suites specifically, and not the entire hotel. I could be wrong, but that sounds about right. So why do they display a plaque for the award in the main lobby, and not just in the Sky Suites lobby? That's why I'm confused, but I'll give them credit: It sure does seem like the entire hotel won the rating.
I was wrong: The resort/hotel proper has its own Five Diamond award [PDF], as does the Sky Suites portion. Hard to believe that the main hotel won, but it's true. (Though again I hyperbolically speculate that "won" is just another term for "bought" in this case.)
Of course, again the technology was a flop even in the vaunted Sky Suite. The living room TV's connectivity device — housing HDMI and other inputs — did not work. A call to the front desk did have a repairman up in a jiffy, and I believe he replaced the unit.
In one of the bedrooms the wall buttons on either side of the bed were reversed; The right button would turn on the left side lamp, and the left button operated the right.
In one of the bathrooms the light above the toilet did not work. Probably just a blown bulb, but yeah, leave it up to the guests to just report this kind of stuff rather than checking it yourselves.
Again, the keypad lock on the mini-bar did nothing. One of the sinks in the bathroom didn't drain (or rather it drained so slowly that it took about 10 minutes). But the water pressure was good.
Overall those gripes are minor and the hotel did resolve the connectivity issue right away, so I would still recommend a Sky Suite in the future for their cleanliness, comfort, and overall service.
The Sky Suite did also have its own dedicated internet access point. I didn't get a chance to test it, but I'd wager it was significantly faster than what the plebs downstairs are offered.
And now for room number three…
Again, no help having my bags moved to the new room, nor expediting check-in. Instead I had the pleasure of waiting on the check-in line, which at that time of day was quite long. Yes I timed it, and it took just about 42 minutes to make it from the back of the line to the front. Check-in itself took about a minute.
I'd actually seen the line grow longer than that at other times of the day. My advice: Time your arrival for late evening on a weekday or be prepared to wait up to an hour.
In case you've never been there: The ARIA is big. I mean HUGE. My room was all the way at the end of one of the towers, and it's a lonnng walk from the elevators. You do not want to forget something, because there's no "running up to the room real quick". Tell your friends to give you about 20 minutes.
That's not a legitimate complaint, I know. Just something of which you should be aware; Unlike most hotels, request a room near to the elevator.
The room itself was about a hundred times more welcoming than my first Deluxe Room. Very clean, and with a wallpaper and decor that made it feel larger and more open. (The decor doesn't change much room-to-room, but apparently little changes make a big difference).
This one wasn't a City View room, and take my advice: Pay the extra money for the view. (If you choose to stay at the ARIA at all.) This room had floor-to-ceiling windows to depression: The freeway. The HVAC facility. A parking garage. The decay of off-strip storefronts.
If Nick Cage were going to off himself with booze in 2014, he'd do it in the middle of the day in this room with the curtains open. Or he'd do it in the first room I had with the curtains closed. The ARIA does give you options.
I have no complaints about this room for the most part: All the lights worked, the remote had fresh batteries, the touchscreen control panel was a bit snappier (though still frustrating by the standards of modern cell phones), and the connectivity panel was in good condition (though I didn't use it).
I hung out in the room for a bit that night, but mostly it was just used for sleeping. The next morning I got up and went to "do my business". I'd had the toilet seat up since I'd arrived, and now lowered it. Uh-oh: A streak of someone else's feces was on the seat. Undoubtedly it belonged to the prior guest, because I'd been the only one to set foot in that room since I checked in.
I was in a bit of a hurry to relieve myself and so didn't want to wait for housekeeping. I cleaned it as best I could and toilet papered the seat like I was at Grand Central waiting for a train. Just what one wants from a "luxury" hotel.
Good thing I hadn't showered yet.
But water pressure in the shower was atrocious. It's a desert, I get that. But the pressure was great in the Sky Suites. Again, completely different hotels so I suppose it's not really fair to compare them.
Pro-tip: Just because the lights in the rooms are centrally controlled doesn't mean that they don't have light switches. Floor lamps and table lamps may at first appear not to work, but it may be because either the actual switch on the fixture is off or the master controller for the room has it turned off (or both, come to think of it). Troubleshooting this sort of thing is what makes staying at the ARIA fun, and certainly housekeeping doesn't check the lights as there were examples of this problem in both rooms and the suite.
By the way, it's a real pain in the you-know-what to have to run across the room and navigate a menu just to turn on a light. I was looking through my suitcase near the floor lamp one night, but the lamp was off and I needed more illumination. In most hotel rooms you'd just .. turn the light on. At the ARIA you have to go through the frustratingly-slow menu system of a controller across the room just to light a lamp. Great on paper, frustrating in real life.
Oddly, the bathroom amenities in the two Deluxe Rooms were different. The first came with the aforementioned tooth care stuff (mouthwash/toothbrush/toothpaste) and a shave kit (razor/shaving cream). The latter room had none of those, but did include a kit with needle and thread, makeup remover, and a shower cap. It's just a bizarre inconsistency.
Oh, and the razor in the shaving kit? Don't use it if you value your face. I used it, as did two of my friends (3 razors from 3 separate kits). We all had bloody tissue on our faces by the end. That makes the razor so far worse than useless that it has a negative value. Seriously, it's better to get ripped off in the sundries shop on a brand name razor. Actually, it's better to pack your own. (Oops.)
Since you've read the review this far, let's go further:
No Free Coffee
This is a pet peeve of mine. Hampton Inns, Holiday Inn Expresses and no-tell motels all give out free coffee.
The best is in-room coffee. Whether it be one of those crappy little coffee pot machines or an all-out Keurig, I love in-room coffee because it's one of the first things I reach for in the morning.
I don't want to wait for room service to bring it, though I don't mind terribly going down to the lobby to get it.
This isn't the first 5-star hotel at which I've stayed that doesn't provide coffee gratis, but it's exemplary of something that's generally troubling: Any aspect where a 5-star hotel can't give me the same comforts that a 3-star hotel will provide.
The Casino
The casino wasn't jam packed even on a Friday or Saturday night. Getting a seat at a table or a machine was easy, and the drinks service was prompt and courteous.
Despite the Sky Suites being fully booked on Friday and Saturday, the high roller areas were virtually empty every time I walked by. If you're rich and you like gambling by yourself, hit up this place. (But then again, you're not reading my review. You're getting your advice from the American Express Platinum Travel Service. I wonder how much MGM paid them? [Again, hyperbole.])
For the size of the hotel the casino is pretty small. It's not flashy, but it's not bad.
The Buffet
One word for this: Meh. I've had better buffets back home, and each style of food is just below par of a relatively inexpensive restaurant featuring that particular fare. It's by no means bad, it's just not a great buffet.
And they say that they have sushi, but it's California Roll grade sushi. They had some nigiri-style salmon and tuna, but the tuna was bland and they ran out of salmon after our first trip to that counter.
At no time at the buffet did the words "this is really good" come out of my mouth, let alone superlatives like "excellent" or "magnificent". The desserts were probably the best part, but I'm not a dessert guy, and those alone probably don't justify the price of admission.
Drinks service was again prompt and courteous. They have an "all you can drink" option for wine, beer, sangria and possibly others for (IIRC) $13. It's a good deal, and the sangria was tasty.
All that being said, it's definitely the cheapest way to get full at the ARIA, and it's OK.
It's probably the cheapest way to get drunk, too, unless you stick to the penny slots and get the free drinks that come with.
Javier's
This was the only full service restaurant in the ARIA at which I ate. Decor is pleasant. Romantic, even. The menu had many delicious-looking options. Service was courteous (at first), but slow.
I was there with a long-time friend, so we were just BSing and passing the time away snacking on chips and salsa, having a great time. We weren't bothered that it took our food something like 30-45 minutes to come out, at a time when there were only about 10 covers left in the place.
And it was the wrong food. They didn't get our order wrong, but rather sent another table's order to us. We felt very badly, too, because we'd started eating the food. (My friend had ordered pork and what he got was chicken. The chicken was smothered in sauce, so he had to bite into it before he figured it out. I merely thought that I'd accidentally ordered the wrong thing, as I was vacillating between two dishes and my Spanish pronunciation is poor.)
Despite our sincere apologies for having taken a couple of bites of the food, the waiter was really angry. At us, at the runner that brought the food, at himself; Who could say? But when our correct food did come out, he practically threw it at us and huffed off.
Obviously we were partially at fault on this one, but from a hospitality perspective that was no way for him to have handled it. We actually ended up tipping 30% because we felt bad, but the guy made us feel like unwelcome fools for what was only partly our mistake.
Both foods that each of us received were delicious. Portion size is not tiny but somewhat small, which is to be expected.
I would recommend the restaurant, providing our freak mix-up isn't a commonplace occurrence.
Starbucks
I got a snack here one day when I was on my own for a couple of hours. It's a Starbucks; You've probably been to one before. Service was curt and unfriendly, in keeping with that attitude of much of the hotel's staff.
In Conclusion…
I can forgive one or two mishaps, slipups, or failures on the part of the hotel. But I'm taking off one star of my rating for each of these:
The un-cleaned room on arrival.
The overall unhelpfulness of the hotel staff on a few occasions, particularly when switching rooms.
The poorly functioning technology that made me absolutely crave an old fashioned light switch.
The feces on the toilet seat. In fact, I'd take off all the stars just for that one in an ideal world.
Note: I also posted this review to other sites that use a 5-star rating system, hence all the talk of stars.
Obviously a lot of reviewers have had widely varying experiences at the ARIA, but that's the real problem: Their lack of consistency. They designed a great hotel on paper, but they executed that vision poorly. There's far too many rooms for even their probable army of employees to handle.
Don't think that I'm overly picky, either. I've had great stays at hotels running the gamut from 3-star "inns" to 5-star luxury resorts. The problems here are either objective, or cases of the ARIA not being able to meet the expectations that they set in their promotional materials. I particularly wouldn't be so hard on them about their technology, excepting that they showcase it as their pièce de résistance.
I'm also not a sad sack. This sub-par hotel in no way "ruined my vacation". I was there to hang out with old friends, kick back and have some fun. All of that was accomplished and then some, and I had a fantastic time. So it's through that lens of enjoyment that I criticize the ARIA, not out of some arbitrary vendetta.
If you can afford it, stay in a Sky Suite. Otherwise skip the ARIA.
Update (2014-07-09): I just received a folio for my first room which shows a $106.00 credit to my MasterCard, and it looks like they knocked off the resort fee (times 2 nights), as well as the $50 food and drink credit that Steven had promised.
That's cool, but I'm not really grateful for their "going the extra mile" by taking off the resort fees.
Now that I'm looking at the details, here is what the resort fee includes: In-room Internet (shit), Campus-wide wireless Internet (shit), In-room local and toll-free calls (free calls aren't free?), Fitness Center access (fair enough, but I wouldn't use it), daily newspaper (did not receive) and airline boarding pass printing (pointless, as it's free at the airport and the hotel doesn't actually advertise this service so I had no idea it existed).
Hey MGM: Just roll the "resort fee" into the damb room cost. It's just one more slap in the face to make your guests pay an extra "MGM tax" to not use your shitty and pointless services which most hotels include at no cost in the first place.
In other words, when I first saw that I would be charged a "resort fee" I sort of assumed that fee would include use of a fancy pool, some kind of special vacation-related-service, or something otherwise "resort-y". But internet access, a phone, a treadmill, a newspaper, and access to a printer are not resort services. They are hotel services. The freakin' downtown Chicago Holiday Inn offers those same services gratis (maybe not the newspaper, but I'll loan you the dollar).
I recently stayed at the Hyatt Regency Scottsdale Resort & Spa at Gainey Ranch. They charged a resort fee of $25. But they provide transportation to nearby shopping, a free drink at check-in, and a 2.5 acre water playground. You know, resort stuff. (Incidentally their food is better, their service is better, their beds are better, and while not as large their rooms work well and include balconies.) It's a family-friendly resort to be sure, but it is an example of a well-managed facility with a resort fee that doesn't bother me quite so much.
But we all know that the resort fee is just a giant scam so that these hotels can list a room rate that's lower than reality on sites like Hotels.com, Expedia and Travelocity. So what it "pays for" is actually a moot point.
As for the $106 credit:
Did they take off the resort fee in addition to the promised $50 because they read this review? But then why didn't they follow up by contacting me? But if they read the review then why didn't they credit me something on the second room for their having left feces on the toilet? Did the refund have nothing to do with the review and they were just being generous? I guess I'll have to contact them — and wait on hold, etc. — because convenience.
Oh, and about that second room: My folio of 6/30/2014 shows a total of charges + credits = $0.00. In other words the room was fully paid upon my checkout. I can guarantee you, dear reader, that I did not rack up any charges post-checkout, nor did I trash the room nor drink of the minibar.
So why does "ARIA – Front Desk" still have a $275.95 authorization hold on my card? That's just about twice the rate and tax of the second room, but not quite. So are they still holding funds for that? Or something else? And why? Are they going to charge me more even though I should have been fully paid up as of 9 days ago?
I suppose we won't find out… Until the next unexplained action of the ARIA.
Update (2 hours later): They did explain it! Or, least they explained the credit (click on the image for a full-sized view):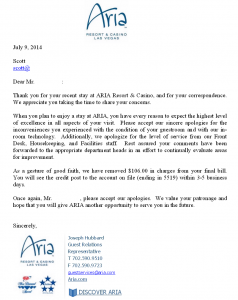 I suppose I've made it clear that the $106 doesn't exactly make me a satisfied customer. But it's not like I'm after a full refund either. I did have a place to lay my head for a few nights, and despite the numerous issues I did have access to all of their facilities during my stay. That's worth something. I'd probably be happy retroactively paying Holiday Inn Express prices, but even they don't leave feces on the toilet seats.
Much of this extremely long review is merely for my own catharsis. And its inherent negative value to MGM, of course.